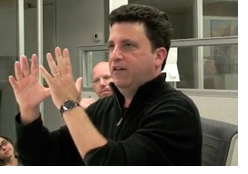 Corey Mandell is an award-winning playwright and screenwriter who has written projects for Ridley Scott, Wolfgang Petersen, Harrison Ford, Meg Ryan, Julia Roberts, John Travolta, Warner Brothers, Universal, 20th Century Fox, Fox 2000, Fox Family, Working Title, Paramount, Live Planet, Beacon Films, Touchstone, Trilogy, Radiant, Kopelson Entertainment and Walt Disney Pictures.
Corey is a distinguished instructor at UCLA, where he earned his MFA. He also teaches screenwriting and television writing at Film Independent, Harvardwood and through private workshops in Los Angeles as well as online.
Corey's students have gone on to sell or option scripts to Warner Brothers, Paramount, Sony Pictures, Disney, Fox, MGM, Universal, Showtime, FX, USA Network, NBC, HBO, MTV and AMC. Others have been staffed on such as Community, The Fosters, Bones, Justified, Young and Hungry, Playing House, The Mentalist, Marvel's Agents of Shield, Up All Night, State of Affairs, Rosewood, You're the Worst, Pretty Little Liars and Treme.
Corey lives in Hermosa Beach with his wife, Rebecca, and their two dogs.